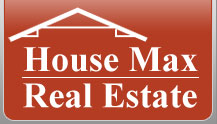 House Max Real Estate
39-38 58TH STREET . WOODSIDE, NY 11377
Office : (718) 779-4990
Fax : (718) 606-6125
E-mail: HouseMax01@aol.com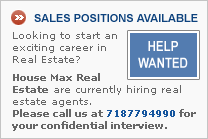 MULTIPLE LISTING SERVICE - Your home will be listed with our computerized M.L.S. system which has 1200 hundred offices and 14000 thousand Sales Associate working for the sale of your home 24- hours a day.


ADVERTISING - Your Home will be advertised in numerous real estate publications including Newsday, Harmon Homes, House showcase.


TROUBLE SHOOTER - As a courtesy to all our clients, we do a violation search which can avoid lengthy delays of your closing.


PREPARING YOU FOR SALE OF YOUR HOUSE - Advise you about small Cosmetic work needed to be done, which can maximize the price and shorten the time of sale, I will provide you with work estimate, which have be done in the home.


QUALIFIED BUYERS ONLY - To save your time, I only show your home to qualified buyers and only by appointments.


MORTGAGE ARRANGEMENT - I will guide the buyer with Financing options available in the market and do the daily follow-up to ensure the sale of your home.


NEGOTIATING PRICE - I help negotiate the best possible price and term for your home with your approval.


PRICING YOUR HOME - Pricing the house, before selling is a very important factor I provide you with a Competitive Market Appraisal, which help to determined the price of your home. However, as a owner you have the right to adjust the asking price , higher or lower.


PURCHASE AGREEMENT - All offers for your home will be obtained in writing with a large deposit and presented to you in person.


FOLLOW-UP - From Contract to closing I keep you informed every Step of the way.


YOU ARE ALWAYS IN CONTROL - Providing you with progress Report every
2 weeks regarding the market, like any other home being sold or any other home similar to yours come into the market. Not only this if some situation arise you do not want to sell your home any longer. I can take your home off the market. NO COST OR OBLIGATIN TO YOU.


NET MONEY IN YOUR PACKET - I will furnish estimated closing costs for you which will explain how much money you should be walking away with after the closing.


SEVEN (7) DAYS AVAILABILITY - If any situation arise involving the sale of your home you can reach me 24-hours a day, I shall return your call within same day.


SIGN POST - Lawn signs play a very important role to expose and speed up the sale of your home.


OPEN HOUSE - Open Houses are only done when it is convenient for you and your family.